Welcome to The Jesus Freak web site!
Here you'll learn about Jesus and how to know for sure your going to heaven: Our interests and hobbies, the people in our family,our pets, and more. We've even included a list of our favorite links to other sites.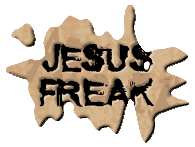 I am thankful that Jesus died for our sins and rose again! Thank God I did`nt die before I met Jesus.The things that I`ve done and been involved in it would have been easy for me to have had died... without a saviour. I would have spent eternity in hell seperated from God.He already made a way for us to be forgiven by allowing Jesus to die on the cross and raise him up again.We can have eternal life.If you don`t know Jesus as your saviour...Pray this prayer.Dear God I am a sinner and need forgiveness.I believe that Jesus died for my sin.I am willing to turn from sin and invite Jesus into my heart and life as my saviour amen.
February 2nd a film called Left Behind will be in theatre`s Please see this film!!

Why are people so afraid to accept Jesus? If they only knew the peace he gives us. The way he fills the viod we try to fill with drugs, material posession`s and so on. I spent many years wondering why we develope relationships with friends and family only to never see them again once we pass on. One day, Mike, my brother shared the gospel with me. Thanks to the blood of Christ I`m saved.This guarantees an eternal life with God in heaven.However if friends, family and the rest of the world do not accept Jesus, those relationships end when we leave this world. Eternal life in paradise with God, why pass this up? Accept him today, ask for forgiveness and turn from sin. He knows were not perfect,but we can do the best we can. This is what pleases God. If you were led to Christ because of the witness of this site please share it with us in the guest book.God bless!
Sign My Guestbook
View My Guestbook